The Norwegian real estate market is a regulated and stable market, characterized by a high rate of ownership and high-quality standards.
While prices vary across different regions and the type of property, the average home price in Norway is about 45 500 NOK per square meter, which equals about 5150 USD or 4300 EUR. However, the average price for a house is lower at 31500 NOK, which equals 3550 USD or 3000 EUR. With this, the average Norwegian family house of 150 square meters (1600 square feet) costs around 4 725 000 NOK, which equals 535 000 USD or 450 000 EUR. 
Urban areas are the most expensive and have had the most dramatic price increase over the last 10 years. Many rural areas in Norway are a lot cheaper. Continue reading below to find out more about home prices in Norway below.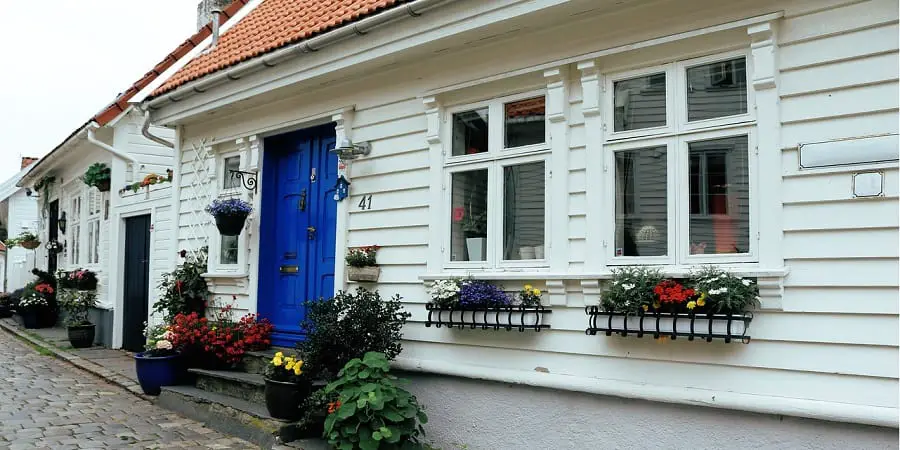 Average home prices in Norway
According to Krogsveen, one of Norway's largest and most reputable real estate agencies, the average home price in Norway is about 45 500kr per square meter. Which is about 5150 USD or 4300EUR.
While this is the average, there are significant price differences between different areas of Norway. Also, newbuilds are more expensive than older homes, and there are significant price differences between condos/apartments and houses/family homes.
According to Norway's Bureau of Statistics, the average price per square meter for newly built family homes in Norway was 37 400kr in 2019 (4200USD/3500 EUR). For older family homes, the price per square meter was 25 700kr in 2019 (2900USD/2400 EUR).
Most expensive home prices in Norway
As mentioned, there are large price differences across different areas of Norway. In general, urban areas are more expensive. Oslo is the most expensive, followed by urban areas in the greater Oslo region.
Below you can see a list of the most expensive counties in Norway based on official figures from 2019, looking at the average price per square meter for a family home. 
| | |
| --- | --- |
| County | Price per square meter (NOK) |
| Oslo | 61900 |
| Akershus | 43350 |
| Buskerud | 33050 |
| Vestfold | 32550 |
| Hordaland | 31950 |
| Troms | 30650 |
| Rogaland | 30100 |
Cheapest home prices in Norway
Rural areas tend to be the least expensive, especially those far away from towns and infrastructure. While there are many statistical variances depending on how you look at the average home price (newbuild vs old). The top 5 cheapest counties based on 2019 figures include
| | |
| --- | --- |
| County | Price per square meter (NOK) |
| Oppland | 24200 |
| Sogn & Fjordane | 25250 |
| Telemark | 25500 |
| Finnmark | 25550 |
| Vest Agder | 26050 |
| Aust Agder | 26100 |
| Møre & Romsdal | 26150 |
Home prices in Oslo
Oslo is Norway's largest city and has the largest urban area of any Norwegian city. It also tops the statistics in terms of home prices.
In addition to being the most expensive market, there are several market trends that set Oslo apart. While there tends to be a significant gap between home prices of newly built houses and apartments, this difference is minimal in Oslo. Also, there are significant price differences in the Oslo market.
Areas in or near the city center are the most expensive. However, as you move outside the center, there is a significant price difference between west and east Oslo. Western Oslo is by far the most expensive suburban area.
| | |
| --- | --- |
| Area | Price per square meter (NOK) |
| Bjerke | 68300 |
| Bygdøy-Frogner | 96400 |
| Bøler | 63700 |
| Ekeberg-Bekkelaget | 68600 |
| Furuset | 57800 |
| Gamle Oslo | 84000 |
| Grefsen-Kjelsås | 85500 |
| Grorud | 54000 |
| Grünerløkka-Sofienberg | 86200 |
| Hellerud | 58000 |
| Helsfyr-Sinsen | 86200 |
| Lambertseter | 68500 |
| Manglerud | 63700 |
| Nordstrand | 68600 |
| Romsås | 54000 |
| Røa | 74200 |
| Sagene-Torshov | 92000 |
| Sentrum | 96400 |
| Sogn | 85500 |
| St. Hanshaugen | 93100 |
| Stovner | 44200 |
| Søndre Nordstrand | 44400 |
| Ullern | 80400 |
| Uranienborg-Majorstuen | 96400 |
| Vinderen | 74200 |
| Østensjø | 63800 |
Price of renting a home Norway 
Many people own their own homes in Norway, however, there is an increasing tendency for renting, especially in urban areas. 
The price of rentals differs widely across Norway. In rural areas, you can rent decent apartments and houses for around 100 NOK per square meter. In central areas of Oslo, prices can range between 250-400NOK per square meter.
Prices depend on the location and the condition of the rental, but also what is included in the rent. Some rentals are fully furnished and have heating included, while others do not. Make sure to check what is included.
For example, winters can get cold in Norway, in which case you want to keep your apartment warm. If heating is included, this is a non-issue. However, if the apartment is heated with electrical panels, you are likely to get high electricity bills during the winter months.
Can a foreigner buy a property in Norway?
There are no restrictions for foreigners wanting to purchase property in Norway. Most individuals interested in purchasing a home will have to borrow money from a bank. In Norway, most banks require a down payment of 15% on a home loan.
If you are interested in looking for a home in Norway the whole market is found online. The go-to place is finn.no. While this is a Norwegian website, most browsers offer translations to help you navigate.
If you are new to the Norwegian market you might want to contact a real estate broker to help you along the way. There are many to choose from, but the largest firms with branches across the entire country include
Aktiv eiendomsmegling
DNB Eiendom
Eiendomsmegler 1
Garanti
Eiendomsmegler Krogsveen
Privatmegleren
Housing and price trends
As is the trend in many parts of the world, more people are seeking out cities and urban areas. In Norway, the largest cities are seeing the largest influx of people from within Norway and abroad. 
Statistics also show that there are gradually fewer people per household. This trend is likely a result of the tendency for people to live in apartments as opposed to houses.
While Norway has seen a strong rise in housing prices, averaging more than 5% annually in the last 10 years. The biggest increase has been in urban areas, aided by the net influx of people. 
Also, the price increases have been stronger for apartments and condos in central areas. This trend is aided by the low interest rates which have made many put their savings into rental apartments.
Closing remarks
There are no restrictions regarding foreigners buying property in Norway, however, most find the Norwegian real estate market expensive. 
The market is well-regulated and the residential market is characterized by a high degree of ownership and high-quality standards.
While renting is becoming more popular, most Norwegians have most of their wealth in their homes. While there has been a general increase in house prices, there is a general trend of urbanization that has accelerated home prices in these areas.