While there are regulations on the type of gun one is allowed to own, it is perfectly legal to own guns in Norway, however, you have to adhere to strict regulations.
First, you need to get a license from the police. In order to get one, you need a valid reason to be a gun owner. This can either be that you are an active hunter or shooter. 
In this article, we will dive into gun regulation in Norway, as well as the regulations applied to travel to Norway with a gun.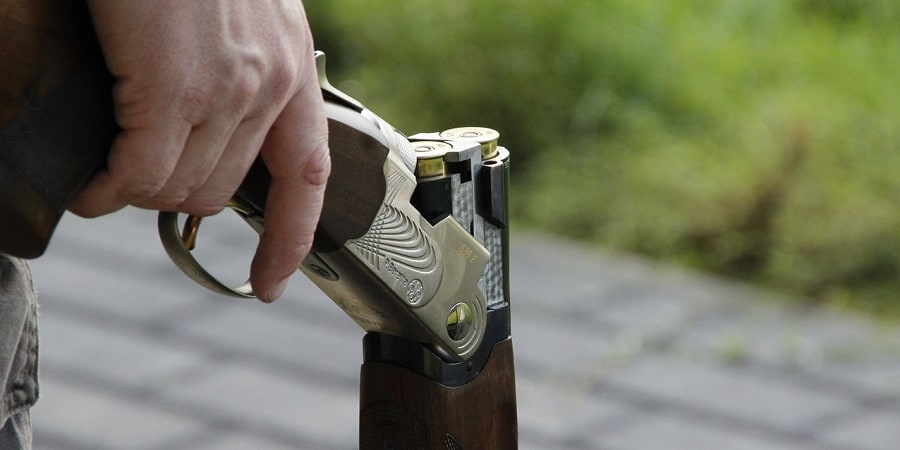 Gun regulations in Norway
Norway has strict gun regulations. As a consequence, gun ownership in Norway remains low.
Who can get a gun in Norway?
According to Norwegian law, individuals should have a reasonable need in order to be allowed to own a gun.
While this formulation is rather vague, in practice it means that only hunters and active shooters (regular use at a gun range).  
Legal vs illegal guns in Norway
In line with the EU's weapons directive, Norway has implemented the ban on all military-grade weapons, grenade launchers, fully automatic rifles, and firearms camouflaged as other objects.
In addition, there is a ban on very powerful firearms, such as weapons using .50 BMG caliber cartridges and weapons with higher calibers than 0455.
Since the 22. July 2011 terrorist attack there has also been an effective ban on all semi-automatic rifles.
While the guns above are deemed illegal in Norway, there is no explicit list of which type of guns that fall outside these are legal or not.
Here are some of the regulations in place for common types of firearms:
Shotgun
As a general rule, you have to register all magazine shotguns made from 1890 and onwards.
Paintball, air rifles, soft guns, and air-soft guns
There is no regulation on paintball guns and soft guns. These can be freely purchased by everyone above 18 years of age. The same is true for air-soft weapons.
Other than having to be 18 years of age, you don't need any permission to acquire air rifles with a caliber of 4.5 mm or lower. However, for higher caliber types you need to get permission.
Gas guns
Because gas guns look like real weapons and can easily be modified into potentially lethal firearms they are subject to the same registration requirements as regular firearms.
Gun licensing in Norway
In order to be eligible to purchase and own a firearm in Norway, you have to get a gun license issued by the police.
In order to be granted a gun license, you have to be 21 years of age and be able to document that you have the correct training and that you are an active shooter at a gun range or hunter.
This means that you have to pass a gun safety course or hunting training, and provide documentation to you are regularly practicing shooting at a gun range or hunting. 
for non-hunting purposes, this means that you have regularly practiced at a shooting range for at least 6 months. 
If you have done so previously, but have not attended for a longer period of time, the police might decline your application. 
Also, the police might require that you stay active in order to keep your gin license after having it issued.
Background checks
When applying for a gun license, the police will do a background check. 
This includes checking your police records as well as contacting the shooting range at which you are practicing to verify that you have received the proper training and that you have been an active member for at least 6 months.
They will also check that the shooting range actually offers shooting practice with the gun for which you are applying a licence for.
If everything checks out, you will be given a license which also makes you eligible to purchase the firearm you applied for.
Carrying and using guns in Norway 
The only use of guns that are accepted in Norway is for training, competition, and hunting. There are also the only accepted reasons to own a gun.
When it comes to licensing to carry a firearm, this is only permitted by the police. Any citizen is not allowed to openly carry a firearm unless it is on a shooting range or out hunting.
Keep in mind that pistols and revolvers are not allowed to use for hunting purposes. They can only be used for practice and in competitions. Therefore, carry is limited to transport to and from a shooting range. 
In addition, the rules for transporting firearms are strict, and you are not allowed to transport a loaded weapon.
How many guns can you own in Norway?
Because you have to have a need for a weapon in order to be given a license for that firearm, how many guns you can have depends on your need.
As a hunter, you might need several firearms for different types of hunting. In total, you are allowed to have a total of 8 firearms as a hunter.
If you are a competitive shooter, you are also allowed to have several weapons if you compete with several weapon types.
Traveling to Norway with firearms
If you want to travel to Norway with a gun, you have to be a hunter or competitive shooter.
You have to be at least 18 years of age to travel to Norway with a rifle or shotgun. In order to bring a pistol or revolver, the age limit is 21.
Exemptions can be given to competitive shooters below the legal age, in which case you need a written invitation from the host of the competitive event.
If you are given permission, it is valid for a total of 3 months. Before traveling, keep in mind that some countries might also require that you have permission to transport a gun out from the country you are traveling from.
European weapon passport
If you are an EU/EEA citizen, you can apply for a European weapons passport before you travel.
By having it, you don't have to declare the weapon to Norwegian customs upon entering the country.
If you don't have it, you have to apply for a temporary permit from the Norwegian police at least 2 months before you are to travel.
You also have to declare the weapon in Norwegian customs upon entering the country. In reality, this is delivering a written statement that you are traveling with a weapon.
What to bring when traveling with a weapon to Norway
Once you have all the necessary permits and documentation, you have to make sure to bring it along when traveling, this includes;
A valid weapon permit from your home country.
Valid ID (preferably a passport)
Documentation stating a valid reason for traveling with a firearm (invitation to competition or hunting permit).
European gun passport or temporary permit from the Norwegian police for all the weapons you are traveling with.
Sources
Lover og regler om våpen – Politiet (Norwegian police)
Veien til eget vapen (The road to owning your own gun) – Nedre Eiker pistolklubb (Nedre Eiker pistol club)
Reise til Norge med våpen for jakt- og konkurranseskyting – Politiet (Norwegian police)